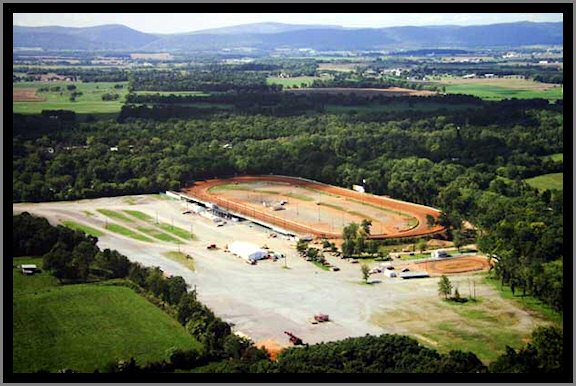 The Hagerstown Speedway is a true 1/2 mile track with straight-aways over 900 ft. long & 70 ft. wide. The track is 90 ft. wide in the turns. The racing surface is made of the finest red clay in the nation. The smooth, wide surface makes Hagerstown Speedway one of the fastest and safest dirt tracks in the U.S. on which to race.
Address: 15112 National Pike, Hagerstown MD 21740
Phone: 301-582-0640
Fax: 301-582-3618
How to get to the track…
The Hagerstown Speedway is located 6 miles West of Hagerstown on US Route 40 (Old National Pike).
FROM EAST (Baltimore)
Take I-70 West to Exit #24, look for directional sign on ramp, follow to the right on Route 63 North 2 miles to light at Huyetts crossroads, turn left onto Route 40 West. The Speedway is 2 miles on your right.
FROM WEST (Cumberland)
Take I-70 East to Clear Spring's Exit #18, look for directional sign on ramp, turn left follow Route 68 North (1/2 mile), turn right onto Route 40 East. The Speedway is 2 miles on your left, just past the Conococheague Creek Bridge.
FROM NORTH (Harrisburg)
Take I-81 South to Exit #6B, Route 40 West. The Speedway is 4 miles on your right.
FROM SOUTH (Winchester)
Take I-81 North to Exit #6B, Route 40 West. The Speedway is 4 miles on your right.
---
NO GLASS CONTAINERS AND NO ALCOHOLIC BEVERAGES PERMITTED
INSIDE THE GATES BY SPECTATORS, OR IN THE PIT AREA.
Small Coolers (approx 14 inches or smaller) permitted with the exception of Monster Truck Week.
Beer is sold on the premises ONLY.
No Alcoholic Beverages can be brought inside the gates or taken outside the gates.
CHILDREN 12 & UNDER FREE (EXCEPT FOR MONSTER TRUCKS)
Pit Gates open two and one half hours prior to practice time.
Grandstands open two hours prior to practice time, unless noted otherwise.
Free Camping with the exception of Monster Truck Week and Bonanza Extravaganza.
Must be self contained. No Facilities, Wash Rooms, Dump Stations or Hook Ups.
---
CANCELLATION PROCEDURE
In the event of a sudden shower, the starter will halt the races. If the rain, in the opinion of the track officials, is sufficient to postpone the remainder of the contest, racing will not be resumed.
If all qualifying events, including time trials, have been completed, rain checks will NOT be honored. However, a special event may be added to a subsequent evening to run the feature missed.
All tickets from the postponed events will be good for $_(paid ticket price) towards the purchase of another ticket for up to 18 months to 2 years depending on the event postponed. There will be NO CASH REFUNDS in any case.
When a event is cancelled or postponed hagerstownspeedway.com, and the telephone answering system will immediately be updated. Many of you come from miles away and must leave several hours ahead of race time to get here. If you wish to call, dial 301-582-0640, but wait until you are ready to leave, and check back while in transit. Should we second guess Mother Nature and be wrong, we are sorry.
In rare instances, due to track conditions, events must be cancelled, or postponed. Although not the favorite choice, for the safety of both participants and spectators, and to keep us in business, these decisions must be made.
Our track officials and workers are here to assist you, whenever they are able. Please ask them for help, if and when you need it, and report any problems that persist directly to the office.
We hope you enjoy Hagerstown Speedway and become one of our valued fans!
---
NOTICE: We respond to Email Monday through Thursday only.
info@hagerstownspeedway.com
Any Emails received on Friday, Saturday, or Sunday, will be answered the following week.
SEATING CHART